Random 7 w/ LaKesha Womack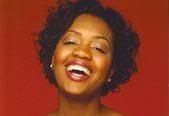 List 5 jobs you wouldn't work even if you were paid $1 million an hour.
Anything that involves cleaning feces, traveling in space, President of the United States, working in a jail/prison, doing laundry for an extended period of time.




Describe your worst sexual experience.
Ummm… I try to erase those from my memory bank *lol*




If you could change your name, what would you change it to?
I would definitely be a Tiffany.




Who has been one of the most influential people in your life?
My grandmother helped to make me the woman that I am by encouraging me to stay focused on my education and to maintain my independence while not being afraid to stand up for what I believe in.




If you could be a character on any television show, what show would it be and what character would you play?
I would be Kelly Monaco's character, Sam, on General Hospital because she has the best love story with "Jason Morgan".




What is a talent you have that most people don't know about?
Not necessarily a talent but most people don't know that I'm kind of funny… When people get to know me they are surprised that I'm not super uptight and I love to make jokes and laugh – at myself and other people.




If your life was ending in the next five minutes, what would be ONE final positive impact you would want to leave on the world?
Honestly, I would hope that I have done enough in my 34 years that my positive impact on the world isn't just measured in the final five minutes… I would want those final moments to be reserved for   my family, especially my son.  I don't think I would be as concerned with what I leave behind for the world as I would what my son's final memories are of his mom.



Click Here to Visit LaKesha Womack's Website

Increase the Random 7 Experience by Doing the Following:

Comment on any of LaKesha's answers
Share your answers to the questions that LaKesha was asked
Provide up to 7 questions that you would like to see on an upcoming Random 7 entry
Vote on which question I asked LaKesha that you would like me to answer in my personal Random 7 entry